LEO Innovation Lab Establishes Omhu to Set New Standards for Dermatological Care
Omhu is a new independent healthtech company launched by LEO Pharma's innovation lab to develop new ways of supporting patients and doctors when diagnosing, managing, and treating skin conditions.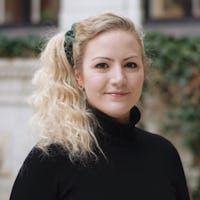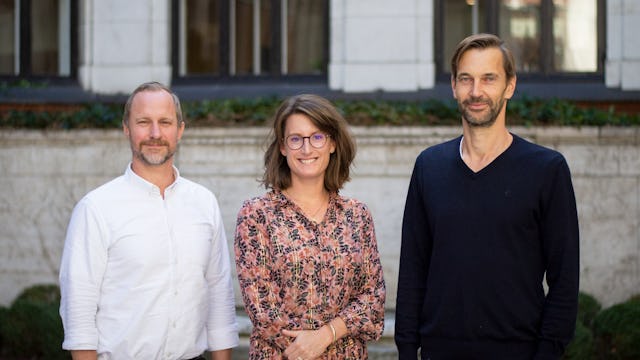 John Zibert, CEO of Studies&Me; Anne Fleischer, Head of LEO Innovation Lab; and Christian Sejersen, CEO of Omhu
Copenhagen, September 2020. Skin issues are among the most common medical conditions, accounting for up to 30 percent of all primary care consultations. The demand for dermatological care continues to grow; however, health systems today are struggling to maintain the necessary infrastructure to support people living with skin conditions – and the doctors treating them.
In Denmark, there are only 1.6 and in the UK 1.1 dermatologists per 100 000 people. Meanwhile, studies show that communities need a ratio of 4 dermatologists per 100 000 to adequately care for the population. As a result, patients with skin issues in Denmark wait up to 23 weeks to see a specialist, which can severely impact their daily life and mental well-being.
Building on five years of research and development within LEO Innovation Lab, Omhu seeks to extend and improve dermatology services by introducing new disease management tools to a more personal and technology-enabled patient journey with the goal of alleviating the growing burden of skin conditions.
Healthcare Made with 'Omhu'
As the relationship between humans and artificial intelligence continues to evolve, the question of trust is more important than ever. Tech giants increasingly have their eyes on the healthcare industry to leverage the ever-expanding amount of health data each of us generate, and in 2018, the EU initiated the groundwork for establishing guidelines for trustworthy artificial intelligence.
AI and data-driven solutions can address the pressure on health systems worldwide, but a lack of trust is one of the central barriers for the adoption of new health technologies.
Omhu has been established as an independent research and health tech company to change that. Omhu means 'careful', 'meticulous', and 'dedication' in Danish, which reflects the standard from which the company operates, acting attentively, contentiously, and with precision.
With a legacy in pharma and tech from LEO Pharma and LEO Innovation Lab, Omhu combines medical and scientific expertise, a thorough understanding of the needs of patients and their doctors, and the necessary data governance for proper handling of health information.
Launching New Solutions in Denmark and Abroad
Central to improving accessibility to healthcare services is the implementation of telemedicine solutions.
Omhu recently launched a pilot in Israel for a decision-support platform that combines teledermatology with artificial intelligence to provide primary care givers with a digital second opinion and reduce the need for referrals.
In collaboration with Bispebjerg Hospital, Omhu is also preparing to launch a new digital solution that addresses the outbreaks of scabies, which have continued to spread throughout Denmark for the past years. The solution will serve as a triage for an overburdened primary care system by facilitating remote assessments to determine the likelihood of users having scabies.
Building on the success of the Imagine – Skin Tracker app, where users can consistently track their skin condition, Omhu is expanding the platform to also include remote progression monitoring. Patients will document their symptoms at home with consistent photographs using Imagine. This will generate more visibility on the progression of the disease allowing doctors to remotely monitor their patients, assess severity, and intervene when needed.
Furthermore, Omhu will carry on the work from LEO Innovation Lab to develop diagnostic classification models, capable of identifying skin conditions from smartphone images at the same level as a specialist. Omhu is currently working with an internal prototype to improve diagnostic accuracy by bringing the eyes of an experienced dermatologist into the hands of primary care doctors and – ultimately – directly to the patients themselves.
About Omhu
Omhu is an independent healthtech company, born out of LEO Innovation Lab. Combining science and technology, Omhu is researching and developing new ways of supporting patients and doctors to better diagnose, manage, and treat skin conditions.
Omhu is not only a name but the standard from which the company operates. 'Omhu' is a Danish word that is notoriously difficult to translate. To act with omhu can be said to be acting attentively, conscientiously, and with precision, which reflects the company's approach to alleviating the growing burden of skin conditions globally and setting new standards for dermatological care.
For more info, visit www.omhu.com (full site coming soon).
About LEO Innovation Lab
LEO Innovation Lab was established in 2015 as an independent innovation unit of Denmark's oldest pharmaceutical company LEO Pharma. Being owned by a foundation, LEO Pharma has no shareholders to consider, and all profits are reinvested into new research to help patients. The innovation lab addresses global healthcare challenges with digital technology designed to alleviate specific pain points experienced by patients or doctors within dermatology.
---