We're saying goodbye to Omhu Care
In July 2021, Omhu Care was launched in an endeavour to build a digital shortcut to specialist care for people with skin problems. More than 800 people have requested the help of our dermatologists - but now it's time to say goodbye to Omhu Care to take on new challenges in digital health.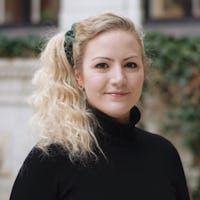 With Medable's acquisition of Omhu in February 2022, we're embarking on a new chapter within clinical research - unfortunately, without Omhu Care.  
Join us for a walk down memory lane when we first opened the doors to our digital clinic, learn where we're going now - and what it means for you as a user and patient. 
People with skin conditions lack accessible healthcare
Before we were Omhu, we were LEO Innovation Lab - a digital innovation unit established by LEO Pharma to rethink dermatological care by exploring the potentials of health technologies. 
After five years of research and development, we became Omhu. In the turmoil of the COVID19 pandemic, we set out to address one of the core challenges for people with skin problems that became even more evident as societies around the world closed down: The lack of access to specialist care. 
In Denmark alone, people wait an average of 121 days for a dermatologist. Omhu Care became the first step on the way to show how a new healthcare model could reduce waiting times by turning your smartphone into a digital clinic. Not only would this make dermatological care available to anyone with a smartphone - we wanted people to get help in less than two days.
On the surface, the solution seemed simple. After downloading the Omhu Care app, users would answer questions about their symptoms and health, and take photos of their skin. Our team of dermatologists would assess this information to provide a diagnosis and best course of action to treat it. 
Under the hood, it proved more complicated. First of all, to make the solution as efficient as possible, the communication between patient and doctor would be asynchronous. That is, no video calls, chats, or other live communication. All information would come from a medical questionnaire and photos taken in the app. 
When designing and building this, we had to ensure our doctors would get all the crucial information to safely treat their patients. We also had to make sure that our users fully understood the medical questions, why we asked them, and that they felt they were able to provide all the necessary information for the doctors to get the full picture of their skin problems - but without ending up with a never-ending flow of questions. 
Overall, our ambition with this solution was to show that remote care isn't a compromise. With the right solution, we believe that we can make quality care available for download. 
So how did we do in this endeavour?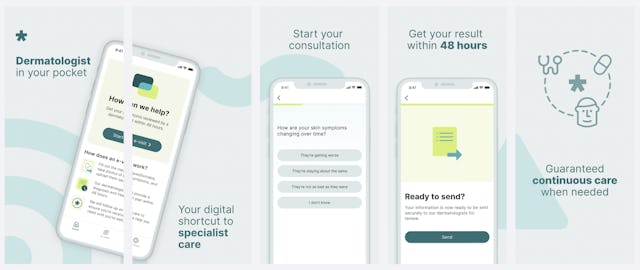 A dermatology clinic in your pocket
From July 2021 to May 2022, more than 800 people have requested the help of our dermatologists via the app. While we promised a result within 48 hours, most users received an answer within a day.
When Omhu Care was first launched, our primary focus was to answer the question: Can we properly diagnose patients using this type of teledermatology solution? The answer is yes. 84 percent of the users who provided suitable photos received a diagnosis.
Then comes the next challenge: Can we treat them?
Initially, Omhu Care was not launched as a fully-fledged solution. We started out small, iterated as we went along, and added new features to accommodate more and more needs of our users. Naturally, this posed some limitations in terms of who we were able to help from the get-go. 65 percent of our users needed to be referred to a doctor for an in-person consultation. Why so many, you may wonder? First, our doctors could only suggest over-the-counter treatments. This meant that although we could provide a diagnosis, we couldn't treat the patients who required prescription medicine. They'd be instructed to go to their own doctor and show their Omhu Care result to get treated.
You could argue that we should just have waited to launch Omhu Care until this was in place, but we wanted to get the app into the hands of people as soon as possible to at least give them access to basic care and to gather learnings in the process that would help shape the app. Instead of worrying for 121 days, they'd get clarity on what was going on with their skin as well as access to the eyes of a dermatologist. This can be valuable given that general practitioners misdiagnose skin conditions in up to 50 percent of the cases. No surprises here - with the existence of more than 3000 skin conditions, it's a complicated specialty.
Certain conditions also require in-person care. Your smartphone can do a lot of things, but mole removal ain't one of them. Some users also needed to be referred due to the need for follow-up consultations. We only just recently introduced this feature to Omhu Care. This allowed our doctors to check up on their patients and for the patients to feel at ease knowing that they were on the right course by reporting their progress and potential concerns.
Another of our most recent features involved using our machine learning capabilities to address a major challenge: Ensuring our doctors received photos that were suitable for diagnosis. Sometimes, there's a discrepancy between what tech can do - and what tech does in the hands of people. Sure, our smartphones are perfectly capable of taking quality photos that can be used medically, but for the person behind the camera, it might be tricky to hit all the marks in terms of lighting, focus, angle, etc. And if the photos weren't good enough for diagnostic purposes, our doctors would have to ask users to take new ones, which would prolong the process.
We did have a photo guide to help them along. Still, in around 30 percent of the cases, our doctors had to request new photos. To lower this number, we built a suitability model that would work with the smartphone camera to help determine if the photo was suitable for diagnosis before it was sent off to our doctors.
We also had other features on the drawing board: First in line was implementing the infrastructure to support prescriptions. Given that we legally couldn't treat children, we also wanted to give parents an option to safely request an assessment for their child. Ultimately, we envisioned that our work in AI-powered skin diagnosis could also have a place in the app.
One size doesn't fit all
Omhu Care was never meant to be a solution that could help anyone with a skin condition or completely replace in-person consultations. After all, one size doesn't fit all, and that was one of our issues with the traditional healthcare system to begin with. With the shortage of healthcare professionals, we don't have the capacity to treat every single patient the same way with in-person care. At least not without long waiting times. 
We wanted to show that healthcare doesn't have to be a single one-way street. We can introduce different pathways from first symptom to recovery depending on the needs of the individual. For some, an app might do the trick. For others, in-person care is the way to go. Or in some cases, a combination of both. 
We truly believe that digital solutions like Omhu Care can contribute to a more sustainable healthcare system - but now, we're taking our ambitions and learnings into a new field of healthcare that also struggles with a lack of accessibility for patients: Clinical research. 
Now what?
Our new home is Medable - a company that seeks to transform ​clinical drug development with technologies to get new treatments to patients faster.
With a new home comes a change in perspective. Going forward, we'll be using our expertise within health tech and our insights into patient needs to take on the challenges within clinical research from a new perspective and to reduce the timeline from trial to treatment - a process that can otherwise take more than a decade. 
One of the core challenges for clinical trials is the lack of accessibility for potential participants. This is where technology can help build a digital pathway and a more human and data-centred approach to clinical research using tools such as digital patient screening, electronic informed consent, telemedicine, remote patient monitoring, and the like.
Now, where does that leave Omhu Care? 
Unfortunately, we'll no longer be able to run our digital clinic. From 30 May 2022, Omhu Care will no longer be in service. Perhaps some of the building blocks of Omhu Care will find its way into a clinical trial but for now, it's goodbye. 
But while we may now be Medable, we'll always be acting with 'omhu' - carefully, attentively, and with precision.  
Omhu is still our standard. 
FAQ for Omhu Care users
We understand that if you've been using Omhu Care, you may be left with questions about the closure, your e-visit, and your treatment. We've gathered the most common ones below.
If you have any further questions or concerns, please reach out to us at support@omhu.com.
Why is Omhu Care shutting down?
In February 2022, Omhu was acquired by the health tech company Medable. This means we'll be embarking on a new chapter in digital healthcare.
Unfortunately, it also means that we have to close our digital clinic and Omhu Care to accommodate our new focus we're using our technical expertise and insight into patient needs to transform the way clinical research is conducted. 
We're very thankful and appreciate the trust our users have shown when asking for our help and expertise and it's not without a heavy heart that we now say goodbye to Omhu Care. We do, however, look forward to taking on new challenges to help patients receive the care they need - this time, by improving access to clinical studies for patients who can benefit from them, and by helping to make new treatments available faster for those who need them most.   
What is Medable?
Medable leverages digital technologies to transform the way clinical trials are conducted. Clinical trials are a prerequisite for developing and making new treatments available for patients but the road from trial to treatment is often long, costly, and inefficient. Medable seeks to solve that by offering a decentralised clinical trial platform to shorten the timeline for clinical trials and make treatment development more inclusive.  
You can say that while Omhu was building a digital shortcut to dermatological care, Medable is similarly building better access to clinical trials using tools such as telemedicine and remote consent.   
You can check out Medable here.
When is Omhu Care shutting down?
From 30 May 2022, you can no longer start an e-visit or answer follow-up questions as part of your treatment. 
The last day to do so is 29 May 2022. You'll still be able to get an answer from our doctors after the closure of the app but you won't be able to submit any further information.
I started an e-visit before the closure of the app but I haven't received a result yet. Will I get one?
If you started an e-visit before 30 May, you'll still receive a result from our doctors. You won't, however, be able to provide any additional information e.g. taking new photos or filling out the follow-up questionnaire. Naturally, this does limit the assistance we can provide. If your skin problems persist, we advise you to show your Omhu Care result to your own doctor to get started on or continue your treatment. 
If you've haven't received your result within two days, you can reach us at support@omhu.com
Can I still access my results and treatment after the closure of the app?
You'll be able to access your messages and other information in the app for a few weeks after the closure. We advise you to save any information you need.
I still have problems with my skin. What should I do?
If you already have a treatment plan in Omhu Care, follow the instructions you've received by our doctors. 
If you continue to have issues with your skin after the closure of the app, we advise you to contact your own doctor and show them the diagnosis and treatment you've received in Omhu Care.
What will happen to the data I've submitted?
In accordance with Danish law, we have to store patient data for a minimum of 10 years, and report to The Danish National Patient Register.
It might not be the most enticing reading material, but if you want more information on how your data is handled, you can still read our Terms & Conditions and Privacy Policy.
---